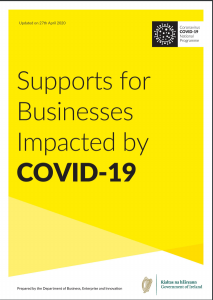 hthaccountants.com/…/Government-supports-for-COVID-2.pdf
Over the past few weeks, we have been attempting to provide you with as much up-to-date information on programs and grants available to help your business through the current crisis.  The Department of Business and Enterprise have just published a booklet with a full summary of current supports and resources available to businesses which we are including for your information.  We have also prepared and include a quick-glance check list of them for you to review and evaluate.
Firstly, here is a quick general checklist for you to consider.  We know that many of you have been following our advice on these points, but it is always a great idea to gather it all together into one place as you are working to change and update your current business continuity plans.  Keep a record of all your communications and contacts.    Keep The Plan organic and change it as necessary.  We are here to help in any way we can.
Government supports for COVID 2
| | |
| --- | --- |
| Practical Steps | Your Plan |
| Talk to Your Bank | |
| Take Immediate Steps to Manage Your Cashflows | |
| Use Available Government Supports | |
| Get Advice | |
| Check Your Insurance Cover | |
| Engage with Revenue | |
Talk to Your Bank
All the banks have announced that they will offer flexibility to their customers, and they may be able to provide payment holidays or emergency working capital facilities.
Make a plan, contact them, have a chat and update your plan as necessary.
Take Immediate Steps to Manage your Cashflows
We advised doing this immediately, but this should be reviewed on a regular basis, particularly before and after step 1.
The booklet recommends pursuing the following;
Look for scope to:
Lower variable costs
Delay discretionary spend
Extend your payables
Expedite your receivables
Explore supply chain financing options
Use Available Government Supports
We have included a Checklist of the schemes mentioned in the booklet
Get Advice
We are always available to walk through this with you.  Contact us on our main phone number or our info@hthaccountants.com email.
You can also contact the advisory support available from your Local Enterprise Office.
Check Your Insurance Cover
We recently contacted you about this point.  Make sure you have checked your insurance policy.  Are you covered for an interruption in your business, or a temporary business closure, caused by COVID-19.  Have you spoken to your Insurance Company or a trusted broker?
Engage With Revenue
Revenue has provided COVID-19 information and advice for taxpayers and agents experiencing difficulties caused by the impacts of COVID-19.
Revenue has also issued updated advice to SMEs experiencing cashflow difficulties arising from COVID-19. This includes information on tax returns, late payment interest, debt enforcement and tax clearance.
Check out the Revenue.ie website.  We are here to walk you through any questions or concerns you have.
https://dbei.gov.ie/en/Publications/Publication-files/Supports-for-businesses-impacted-by-COVID-19.pdf
If we can be of any assistance with any of these schemes, grants or programs, we are here to advise and guide you through the applications if necessary.  We can even be nominated as your consultant and business expert to help getting your business back on track.
Be safe, keep well.