People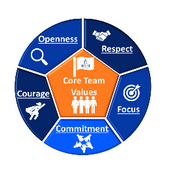 Your people are your staff who work for your business, including yourself, and your strategic professional partners who work alongside your business as a valued part of your team.
In Jim Collin's book, "Good to Great", he describes the right people as those
employees who share your company's core values and help to support a culture based on those value – "It's about getting the right people in the right seats"!
Give your business a competitive advantage by recruiting the right people, training your staff to develop their skills, and retaining good staff. Working in and with a team that has strong core values is a force to be reckoned with.
The company objectives will provide your team with a goal or destination, the Core Team Values will provide common values to help forge the path to achieve that goal. Once you decide on them and picture what they look like in practice, you can incorporate them into your processes and strengthen your branding.