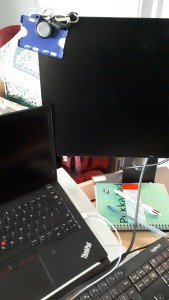 Working from home has been described as an extreme sport.  This can especially be the case if you have a young family to manage and keep occupied at the same time.
We have made a short list of things that work for us that might help get your home and new routine a little more organised during this Pandemic Season when we are self-isolating.
Get up, get dressed and go to work each day.
As tempting as it is to sit in front of the computer or phone each day in your pyjamas, if you physically prepare for your day, then your brain will more easily switch to a working frame of mind.  You don't have to suit-up each morning but changing to fresh clothes allows you to enter the work zone.   You will also feel better at the end of the day.
Start early (or work late)
Some of us have busy homes right now.  Kids, young and not so young are at home, doing schoolwork at a variety of levels and constantly seeking mental and physical stimulation.  Play to your strengths and look for quieter times during the day to get the heavier load of your daily work completed.  Some are morning people and like to get half a day's work completed before everyone else wakes up.  For others, it will be when the house settles down in the evening.  A couple of hours here and there when schoolwork or even tv/electronic time is scheduled can work for others.  Choose what works best for you.
Set routine
Following on from number 2, once you find what time of the day works best for you, the nature of your work and your specific home environment, establish a daily routine.  This might include
Charting a daily schedule with assignments (especially for younger children). Perhaps consider including at least one activity for each person from the following 4 groups,

Intellectual (or educational), physical (a walk at lunchtime, playing in the garden, an on-line dance or keep-fit class)
Social

take time to chat and catch up on your individual daily activities – "honey, I'm home!" should be a daily debrief time.
Have you reached out to other family and friends each day – a text, email, letter or phone call? Keep in touch.  We all need to reach out and help each other.  Start each work meeting/call with a catch-up.
Intellectual – take time to develop yourself with on-line classes, catching up on reading and just taking a break from the endless negative news streams on social and other forms of media.
Spiritual – This is a challenging time for everyone. Even if you still have  a have a job,  have very well behaved and self-disciplined children and have plenty of opportunities to get outside and walk or exercise whilst self-isolating, there is an atmosphere of uncertainty, fear and oft times panic from social media and radio and television.  Make sure you are able to talk to someone and express your feelings.  Keep your mental health in check and find your own personal way of finding inner peace.
Making daily appointments – if work calls or meetings need to be scheduled or deadlines met, let others know to allow quiet time, a separate room or additional time.
Schedule lunch-time – if you were at the office, you would have a "lunch-break" and you would stop and eat. It should be no different when working from home.
Take turns
Situations differ for everyone.  Plan to take turns looking after children, pets and home.  If you are the only adult in the house, consider the resources available on television and internet for schooling and keeping everyone occupied for set periods of time during the day.
Set up a workspace
If you are getting up and dressed, sticking to a general schedule and organizing childcare for set times during the day (other parent, electronic or their sleeping time), you still need a have an "office" to go to each day.  Is it a laptop on the kitchen table or a desktop on a camping table in the corner of the front room with your headphones?  Make sure it is a space within which you can work.
Finally, we would advise keeping communications open with your employer.  Your set working hours may need to change, you may need to drop from a call when someone spill cornflakes all over the kitchen floor, you may find additional challenges trying to do your daily tasks in a remote location.  We can only do our best during this uncertain time.
Keep safe, keep well.