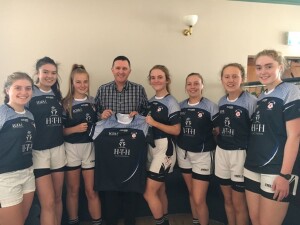 Kieran presenting the new jerseys to the Maynooth LLGFA ladies' minor team in September 2018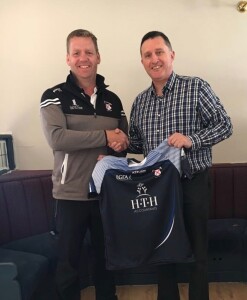 Kieran with Fergal Walsh, Maynooth LLGFA Chair
Local accountant, and former ladies' coach, Kieran Horgan, presented the Maynooth ladies' minor team with their new training jerseys on Saturday (29th September 2018) before their match with Suncroft.
Kieran presented the jerseys to Fergal Walsh, the LLGFA Chair and to members of the team, including the team captain  Sorcha Walsh.
Kieran Horgan of HTH Accountants said: "We in HTH Accountants are extremely passionate about Ladies Football and we can see the positive impact the sport has on our Community with 60% of girls that play sport playing Gaelic Football. We hope our contribution will help to progress sport for girls in North Kildare."
HTH Accountants currently employs a former Kildare under 16 girls and St Mary's GAA Leixlip ladies club player, Aoife Duddy.  She said that it was great to see the expansion of ladies' football since her days as a young player.
The players, who are aged between 15 and 18, were delighted with their new training jerseys which are navy with a grey and white stripped neckline.  The girls also received purple boot bags from HTH Accountants.  They said they were encouraged by the level of support from local businesses.